Corrective Care in Preston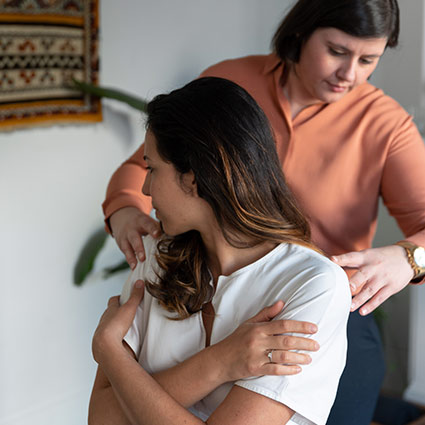 At Northside Chiropractic, we meet each patient where they're at in terms of their health. Most people initially come to us because they are experiencing pain or some other type of dysfunction, such as impaired mobility. While their initial goal is to get out of pain, the benefits of chiropractic care don't stop there.
What Is Corrective Care?
Our experienced chiropractor, Dr Lenče, is passionate about locating the underlying cause of your symptoms and correcting the problem at its source. Rather than simply addressing the pain or other symptom, she considers your spine, compensation patterns, weaknesses, functions and your lifestyle to create a care plan to provide a long-term solution to the problem.
All of our care is tailored to your specific needs and your goals. Dr Lenče will explain the underlying cause of your symptoms, as well as what it will take to correct it. Dysfunctions in the body don't happen overnight, and correcting them won't be a quick fix, either.
In order to make lasting changes to the health of your spine and nervous system, your care plan will likely include
chiropractic adjustments
, soft tissue therapies, home exercises and rehab.
Lifestyle Changes
Many conditions arise from the way we live our lives—sitting at a desk all day, looking down at screens, heavy manual labour, for example—and Dr Lenče will talk with you about ways to modify your lifestyle to augment your healing process and help prevent future problems from arising.
We welcome your questions! Dr Lenče is committed to helping our patients become proactive in protecting their health and create long-term wellness. She encourages your questions and will explain everything she's doing so you understand what's going on with your health and how our approach may help.
Can I Talk To The Chiropractor?
If you're unsure if chiropractic is right for you, please call (03) 9086 8970 and talk to one of our chiropractors to discuss your condition and any questions you may have.

Corrective Care Preston, Thornbury, Reservoir, Brunswick, Coburg VIC | (03) 9086 8970